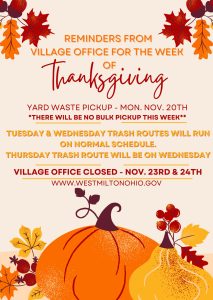 Thanksgiving Holiday Week:
Yard waste will be picked up Monday , Nov. 20. Must be on the list for pickup. Call the office or submit an online yard waste request prior to 11/20 to be added to the list.
Tuesday and Wednesday Trash Routes will run as normal.
Thursdays trash route will be picked up on Wed. 11/22. Please place toter(s) out on Tuesday evening.
No BULK pickup on Friday 11/24 since the office will be closed. Bulk Pickup has been changed to 11/27. You must be on the list for pickup. Please call the office or submit online bulk request prior to 11/24.
The Village Office will be closed Nov. 23 and Nov. 24.